UD's Early Learning Center Reopens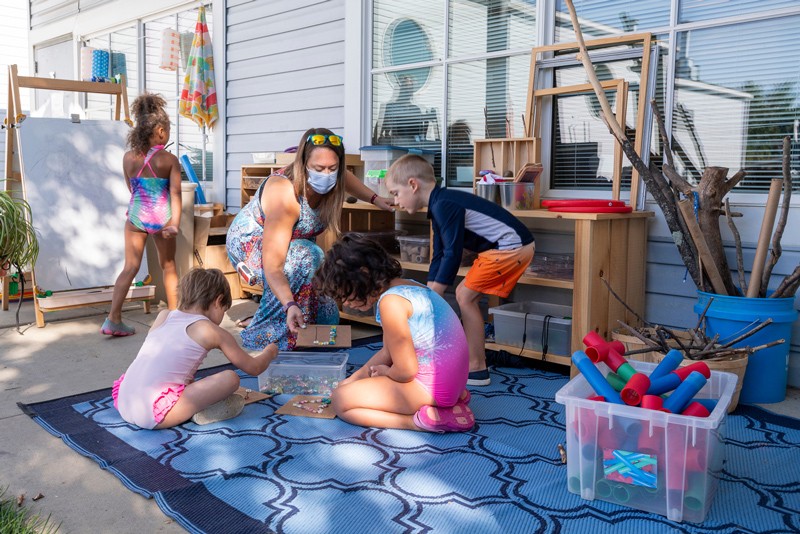 Teachers and children return with new coronavirus screening and cleaning procedures
The University of Delaware's Early Learning Center is once again open for children.
Despite the ongoing coronavirus (COVID-19) pandemic, UD's only full-day early education center for children ages birth to second grade, has thrown a lifeline to exhausted parents and essential workers. In coordination with local and state regulators, regional accreditation agencies and the Centers for Disease Control and Prevention, the Early Learning Center has developed and implemented new screening and sanitation procedures that have minimized the risk of transmitting the novel coronavirus.
"We wanted to make sure that families and teachers felt safe returning to the building, so we worked diligently to create a rigorous reopening plan that would not put teachers, children or their families at risk," said Diana Morello-DeSerio, director of the Early Learning Center.
Among those new procedures, parents are no longer allowed to enter the building. Instead, the Early Learning Center has set up two outdoor drop-off areas where children are screened before entering the building. Screening procedures include a temperature check (must be below 99.5 degrees) and a review of COVID-19 symptoms. Once inside the building, children under the age of 12 are not required to wear a mask, unless at the wishes of their parents.
"Ironically, although COVID-19 has caused us in many ways to live farther apart, this new screening procedure provides teachers and family with extra time each day to interact with each other," Morello-DeSerio said. "We're a stronger community because of what we've been through and accomplished together."
The main entrance at the front of the building is reserved for staff, who go through the same screening process. Once inside the building, all teachers and staff are required to wear personal protective equipment, like masks and face shields, at all times. UD has provided the Early Learning Center with thermometers, masks, face shields, hand sanitizer, which the children do not use for safety reasons.
Additional precautions have been taken inside the building to minimize the threat of transmitting the virus. Each child now has an individual cubby to avoid cross-contamination of personal items. All bathrooms are temporarily closed multiple times each day for deep cleaning. Additional sinks have been installed both inside and outside the building, and all children are required to wash their hands regularly throughout the day and when entering or leaving the building.
Even the playground has undergone renovations. In partnership with renowned learning-space designer Elizabeth Jarmon, outdoor spaces have been divided into zones in order to keep classes from intermingling and potentially spreading the virus on the playground, which includes multiple educational gardens.
"Children are so resilient, and they have adapted to this new normal quite well," said Kelly Freel, associate director of infants and toddlers. "There's no such thing as virtual preschool. Neither the children nor the teachers want to go back into lockdown. We're happy to be back together. And the children have been diligently checking each other, reminding friends to wash hands or stay in the appropriate play area."
Although the Early Learning Center continues to operate at reduced capacity, this is expected to change in the weeks and months ahead, especially if nearby kindergarten-to-12th grade schools reopen. The Early Learning Center currently provides before and after care for three nearby schools: Newark Charter, West Park Place, and Las Americas ASPIRA Academy. However, even if schools do not reopen, ELC leaders expect more parents will be in need of either part or full day schooling for their young children.
"We're not just a day care facility. We are family engineers," said Freel. "We develop the whole child. Not just their academic learning, but also social-emotional development. We're proud to be here to support families in this time of great need."