Grandmother of Juneteenth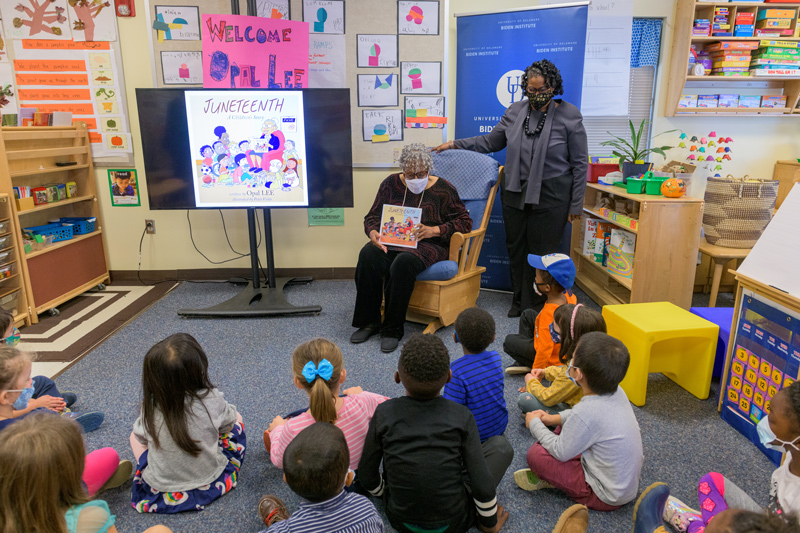 At 89 years old, Opal Lee, a retired teacher, counselor, community activist and organizer, decided she had not done enough.
Yes, she had planned and celebrated Juneteenth in Fort Worth, Texas for more than 40 years. But now it was 2016, and many Americans still didn't know the history of that joyous day — June 19, 1865 — when a cavalry of 7,000 Colored troops descended on Galveston, Texas, the westernmost state in the country, to liberate enslaved Americans a two-and-a-half years after the Emancipation Proclamation had granted them their freedom.
A patriotic celebration of resistance and resilience, Juneteenth should be made a national holiday, Lee said. And so, in 2016, she travelled the country, walking a symbolic two-and-a-half miles in each place she visited, until Juneteenth was finally made a federal holiday earlier this year.
"Sure enough, this is the president that did it," Lee said of President and University of Delaware alumnus Joe Biden, while speaking to his sister, Valerie, at an on-campus event.
Lee's Oct. 26 visit to Newark was sponsored by the Biden Institute, which awarded her the 2021 Woman of Power and Purpose Award and culminated in a thoughtful discussion with Institute Chair Valerie Owens Biden, as well as a question-and-answer segment with students and other community members afterwards.
Speaking to a packed and masked Blue Hen audience, the now-95-year-old Lee explained the complementary and contradictory difference between Juneteenth and the Fourth of July.
"From the 19th of June to the 4th of July, we are celebrating freedom, and everybody is a part of being free," Lee said. "None of us are free until we are all free. And [from 1776 to 1865], we weren't all free."
Of course, the struggle for equality persists even today, which is why Lee also encouraged attendees to "make yourself a committee of one."
"You know somebody who's not on the same page as you," she told them. "Change their mind."
Address the disparities that continue to plague communities, she advised. From homelessness to housing discrimination, food insecurity to economic injustice, climate change to healthcare, education to the school-to-prison pipeline, there is no shortage of need. "And you're the young people who are going to change the world," she said.
She speaks from the experience of her own youth. At just 9 years old, on June 19th, a day that should have been full of celebration, a mob of nearly 500 descended on her Texas community. They burned down her family home — the one her father had built with such love and pride for his wife and children — and "did some despicable things."
"I don't know how much that had to do with me being obsessed with making Juneteenth a holiday," Lee said.
But the tragedy would not diminish her spirit nor weaken her hopeful heart.
"If I could just preach the gospel of helping others," she said. "If you would watch the children of a mother who needs to work. Or if you would go to the grocery store for a woman my age. Or if you would just say something kind to someone else…"
Imagine the change you could make. Or simply consider the change one woman made in the ninth decade of her life.
Article by Artika Casini | Photo by Evan Krape